CTDP

F1 2006 for rFactor

© 2008-2010 CTDP – Version 1.2.1 – Date: June 2010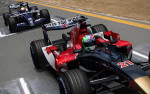 Description
The last year of the champion.
His last chance for glory.
He didn't succeed
Will you?
F1-season 2006 meets rFactor. Good things need time. We took this time to bring you the most complete season-package ever released. Again it's time to put on your racing gloves, lucky sneakers and to get out there racing. But it's not only about the driving skills you will need to succeed. Now, you will also need strategic and technical skills to win the race. Use clever updates for your car to improve your performance and finetune your setups. Be prepared for your race.
Use your chances, fight for the championship, it may be your last chance!
2006 physics and performance (upgrades influence handling)
Technical season upgrades for every team and every grand prix
Both Midland and Spyker included
2006 high detail models and high resolution textures
All special liveries throughout the season autoloaded on each GP
2006 helmets and drivers (individual talent files for AI)
2006 steering wheels, all redone and new
2006 tires and rims with motion blur
Open and covered brakes (with glow)
Up to 6 tire compounds per track
Two variations of each compound with different working temperatures
2 tire brands
Non-linear tiregrip and tire damages through debris
9 engine programs, that influence maximum revs
Realistic engine and brake wear rates for each team
Realistic suspension model simulation (Single-keel, Twin-keel, No-keel, V-Keel)
Setups included
Fully-drivable Safety Car with cockpit
Menu-Sounds and music by Lars J. Brouwer
Full DX7, DX8 and DX9- Support
Supports rFactor skinning feature (now with helmets and driver suit)
6 different Gen-Files for best hardware optimization
Support for RealFeel & LeoFFB
TV-Style overlays for Dinix' Plugin
rfDynHUD plugin for custom overlays (including TV-overlay and track map)
Mod-Deriver for custom league editions (League pack upgrade has been removed)
ControlCenter to control many options for the mod
Facts
Known Bugs:
"All Cars and all Tracks" is not supported
No 3-part-Qualifying
The same bugs as the original game.
Restart needed to activate

CTDP

Menu after mod switch
Unprecize collision model –

ISI

has to fix that
Auto-shift driver aid does not function correctly when using in-car rev limit adjustments (engine boost levels), we have included the upgrade "

HUD

Shift Light/Auto Shift" to allow manually specified shift points.
Disclaimer
It's not allowed to copy anything from this package without explicit permission from CTDP.
You use this MOD at your own risk! We're not responsible in case of problems and/or damages.
You do not have permission to put this package on any cover-cds without our explicit permission.
This modification may not be distributed for any commercial purposes.
If you are a webmaster, feel free to mirror this mod. Please tell us if you want to be noted as mirror on our website. We just want to keep overview.
Instructions
To install

CTDP

F1-2006, run the installation and install it into your rFactor-directory.
Select

CTDP

F1-2006 in your Mod-Menu in rFactor. Done, ready to go, simple as pie.
This mod is built for rFactor version 1.255F. Problems may occur with older versions of rFactor.
The driver's manual with explanations concerning setup and settings is in rfactor\ModData\

CTDP

\

CTDP

\CTDP06\help\
Some advice for drivers with digital controllers (keyboard, joystick or gamepad)
Choose a high Traction-Control upgrade

ABS

on low or high
Steering help to low or high
Uninstallation
Use the uninstaller to remove CTDP F1 2006 from your rFactor.
Release History
Version 1.2.1
Physics
Fixed bug, which prohibited Toyota from leaving the Bahrain pitboxes.
Mod Deriver
Fixed

ENGINE

upgrades to be taken from the engine-owner vehicle.

DRIVELINE

upgrades are now copied from the engine-owner vehicle as well.
Added support for special values for LifetimeRPMBase and -Half to make them relative to max engine rpm.
Version 1.2
Tires
Traction control, the slip curves have been revised to eliminate wearing and heating of tires that are stationary. This change also makes tire wear and heat more consistent between drivers and driving styles. The difference was hugely excessive previously. This has unfortunately meant that the traction control has had to be slightly compromised. You may feel the need to go to a slightly weaker TC setting, as the slip angle at which TC activates has reduced.
This has meant heating and wear rates of tires will have changed.
Tire temperature now influenced more by track temperature than previously.
Minor tire performance evolution over the course of the season.
Ideal pressures have been altered slightly.
Ideal camber angles should be slightly lower on average.
Grip with wear has been revised to provide slightly lower first lap performance to the tires. The tire is fairly similar after 2 flying laps to the previous performance.
Longitudinal peak slip has slightly less variance.
Engine
Slightly less rotational inertia
Harder to stall (using max idle throttle)
(Slightly) improved launch control.
Fuel economy now has a great variance between teams. With Cosworth and Ferrari using the most and Renault the lowest specific fuel consumption.
Engine wear rates and lifetimes have been revised
Teams
Toyota is slightly faster overall.
Toro Rosso has been slowed to a more realistic performance.
Fixed Ride height of Super Aguri
Gears, brakes and others
Up- and down shift times and clutch-in times have been tweaked to make the car more stable on gear changes.
The brake fade temperatures have been tweaked in accordance to new data.
Some default setups have been improved.
Various other minor tweaks.
League Physics
Removed league pack upgrade
Added a Mod-Deriver tool to create customized league editions (to be found under rFactor\ModData\

CTDP

\CTDP06\mod_deriver, read the readme from that folder for more info)
Graphics
Fixed artefacts in T-Cam when riding Red Bull
Fixed Dell logo on Bahrain livery of

BMW

Sauber, which shouldn't have been there
Fixed missing Panasonic logos on Toyota's rear wing
Fixed too dark textures on Toro Rosso in DX7 mode
Fixed a bug on Trulli's helmet
Miscellaneous
ControlCenter doesn't require Administrator rights anymore. The only exception is if your rFactor installation in the "Program Files" folder.
Uninstaller won't delete wrong files
Removed unnecessary config files from the Installer
Version 1.1
Physics
Tires, more compounds available for some tracks, some minor revisions to heating. Tires are very similar, but have slightly more differences per compound.
New slip curve resolution for all cars, the main purpose was to improve the traction control system. However, the new slip curves enhance the driving experience as well to some extent.
The new traction control works much more accurately, reducing its effect in high speed corners, and as a result new traction control settings in upgrades menu are available to match.
Some of the upgrades for some teams had small mistakes: e.g. Red Bull rearwing range
All engine RPM's now match with what is said in the upgrades page.
Engine boost mapping has been reversed (Boost 1 is max

RPM

, Boost 6 is race

RPM

, Boost 9 conservation). This makes the garage display and the shift lights more accurate.
Minor improvement (in terms of realism) to engine life for some vehicles.
Fixed a bug to provide more power loss when slip-streaming another vehicle.
The

HUD

shift light now automatically changes per track, although it can still be overridden by choosing an upgrade.
Toyota, slightly tweaked suspension geometry.
Suspension geometries are changed to possibly work better with LeoFFB, while not being compromised in any way.
Not quite physics related, but new Leo

FFB

settings are included, which provide better force feedback.
Setup notes contain suggested

RPM

for all cars now, you should have default setup loaded for this to work.
League Physics
Engine is now Cosworth CA2006 Series 6 instead of the Series 2 engine, thus providing about 15bhp more.
Traction control overrides now work in the league physics.

HUD

shift light changes now work with league physics.
Graphics
Added: Missing

DVD

-Cover
Fixed: Williams: Crash in DirectX 8 caused by texture bugs
Fixed: Renault: Mild Seven logo of right winglet reversed
Fixed: Ferrari: Front wing logos and new Case logo on the nose, which was missing on the north-american liveries
Fixed: Ferrari: Japanese rearwing texture, wrong color of lower plane
Fixed: Super Aguri: Minor texture errors
Fixed: Midland/Spyker: no Neutral decals on the texture
Fixed: McLaren: Cockpit fin was missing
Miscellaneous
Added: Manual translations in Italian, German and French
Fixed: Crash after starting replay (bad MP3 encoding of music files)
Fixed: Crash of ControlCenter on startup
Fixed: Pit garage slots placement, the team order on some tracks was wrong
Fixed: Installer overwriting realfeelplugin.ini, if you already have a realfeel-configuration, this will be kept.
Updated: Extended credits list
Improved: Soundpack by Michael Ode (new samples, high-samples improved, opponents quieter incar, external sounds slightly less agressive)
Credits
3D Artists
Alexander Borro, Andreas Neidhardt, Craig Longhurst, Daniel Segginger, David Bennewitz, Eugénio Faria, Kevin Wong, Marco Büttner, Marko Stanic, Matthew Scerri, Omar Shaikly, Wai Keen Lam
2D Artists
Daniel Senff, Florian Gramsch, Georg Ortner, Jiang Zheng, Julia (Valerossi), Kyran Brazier, Paulo Fernandes, Raül M. Gullón, Roberto Yermo, Shaun Stroud, Steffen Krägelin
Physics
Alvaro Jiménez, Michael Borda, Sascha Grindau
Programmers
Daniel Fredrich, Marvin Fröhlich
Sounds
Michael Ode
Music
Lars J. Brouwer,
"The Beginning of the End", performed by Nine Inch Nails, remixed by Stefan Tapper – remix.nin.com
Video compositing
Stefan Tapper, Stabitz
Cameras
Dennis Fischbach
Misc
Stefan Triefellner for help with Safety Car gauges, TechAde for ReelFeel FFB Plugin, Leo Bodnar for LeoFFB Plugin, Bo Johansson for updated Data Acquisition plugin, Motec Telemetry by DanZ, F1Alive for the grooved skidmark texture, Ace8 for the Skidwall texture, prunn for his tv styles, Luca de Leo for FSOne sounds
Translations
Game_Fr alias F1.JeanPhi,Totorman, AngeEve, Maug, Will, Yoss, Dedios, Uff
Special Thanks
Image Space Incorporated, Joe Campana, Gjon Camaj, Paolo Capriosa, Bernard (GeZeRe), Ingy, Silent Bob, SimracingLeague.de, Peter Engels, and testers, Readers of our Development Blog, and everyone else who was involved or contributed to this project.
Research
Andy Hone, Steffen Max
Betatesters
From CTDP: Steffen Max, Timo Vollmering, Marco Festini, Ryan Gilmore, Ilkka Haapala, Eric Eifler, Thorsten Feyerabend, Andreas Tücks
From WirPreRacing: Günter Wirges, Ralf Pressler, Julien Dauber, Sebastian Meissner, Andreas Höppner
From VirtualRacing: Daniele Bonaventura, Adriano Fugmann, Martin Kolibal, Andreas Behr, Mansuet Grasser, Stefan Berger, Martin Krampe, Thorsten Jaag, Jens Jung, Patrick Ziller, Michael Morgenthal, Frank Schichterich, Thomas Buchmann, Peter Mannweiler, Benny Loempke, Hans Bodo Kohl, Thomas Nolden, Pascal Scheiwiller, Carsten Krägel, Bernd Heidbüchel
From FSR: Bruno Marques, Dave Carr-Smith, Ricard Forcada, Luca Bisello, Uriah Hill, Daniel Meier, Michael Lam
About
CTDP
Contact
Other major works
Superleague Formula 2009 Game (

ISI

)

BMW

Sauber 2007 for rFactor (

ISI

)
F1 2005 for rFactor (

ISI

)
F1 2005 for F1Challenge (EA)
F1 2004 for F1Challenge (EA)
F1 2003 for F1Challenge (EA)
F1 1998 for F1Challenge (EA)
F1 1995 for F12K2 (EA)
F1 1995 for Grand Prix 4 (Infogrames)
Tracks for rFactor (

ISI

)